"Let them thank the Lord for his steadfast love"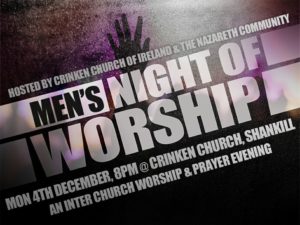 Mens Night of Worship,
To be held in Christian Unity Week.
In partnership with Crinken Church, on Monday 4th December 2017 there will be a night of Men's praise & worship at Crinken Church of Ireland. This is a great opportunity for men to come and spend time praising the Lord. Do come along.
Monday Evening 4th December 2017 at 8pm.
Crinken Church
Dublin Road
Crinken
Shankill
County Dublin.
Googlemap link to venue location.
https://goo.gl/maps/by6qToMztLP2