Each year in May, the European Sword of the Spirit communities stage an inter community soccer tournament.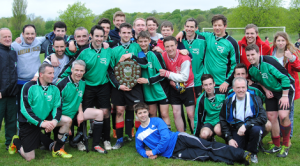 In 2014, the tournament was hosted in Glasgow by the Community of the Risen Christ, and Nazareth sent a team and a half.
A selection of Nazareth players also played for the "Barbarians", an assembly of young and older more experienced players from right across the European Communities Network.
With 6 teams in two groups, the competition was fierce and the football tough, but by the end of Saturday, Nazareth had qualified for the semi-finals and ended up in a very close final against the home team, winning the trophy one more time. 🙂
The Glasgow community (Community of the Risen Christ) did a wonderful job of hosting the tournament, and managing to accommodate so may participants.
This was the 23rd year of the event, which shall be hosted by the Antioch Community in London in May 2015.
A highlight of the weekend was a Prayer meeting on Saturday evening in Clarkston Parish Hall, when well over 200 people came together to give Thanksgiving, Praise and Worship to God and to share life stories and testimonies.