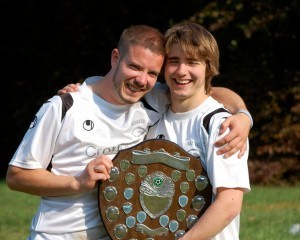 My first experience of hearing God speak to me came when I was about five or six years old. As a small boy, I used to accompany my father to daily Mass in the local Catholic Church. I can't remember exactly when, but I do remember the experience one morning of hearing God. As the priest spoke and we recited the litany and the Mass continued, I felt home. I can't really describe it any other way – I knew that I was exactly where I was supposed to be – worshipping God at the start of the day. This was my first experience of a relationship with God.
As I grew a little older, and began to take notice of my surroundings a little more, I began to discern other markers of faith in my life. Early mornings getting ready for school I would pass my Father in the sitting room, praying and preparing for the day with God. Even when I couldn't see or hear him in there, I could see the glow of light from under the door which told me he had his bible and glasses out and was beginning the day talking to his Father. On the rare occasions I managed to escape Johnstown primary school before midday and came unannounced into the house, I would see the remains of my Mother's daily devotional time on the table behind her as she rose to greet me and find out what had freed me from my prison so early. An enormous leather bound bible, a cup of coffee and a jotter and pencil were put to one side as she busied herself with the interruption to her routine.
When I was seven years old, I was allowed to run down the road to a neighbour's house at half past seven on a Friday evening and join "bible study". Bible Study was an hour and a half of prayer and praise, games, short talks on scripture and (most importantly to a seven year old boy) laughing with the others at the latest noise we thought we had managed to sneak past our councilor's razor sharp ear. Throughout my childhood and early teenage years these activities were the background to my relationship with God. To be quite honest, I didn't think about it much. I knew that God was alive and that you could talk to him and so I did. I knew that my parents knew him better than I did and so when they took out the family bible at prayers and told me what to believe, for the most part (in between all the fidgeting with my brothers and kicking my sisters under the table) I believed it.
On the other hand, I knew that I was part of something a little different to most other children. Our family lifted up our hands when we prayed and we sometimes said things in a loud voice to God when other people preferred to be quiet. Every two weeks we met with a whole group of our friends who did the same thing, but beyond that I didn't investigate it much nor question it too deeply. What we were part of was called "community" and it was supposed to help you to be a Christian. I can see now, that, for me, it definitely did.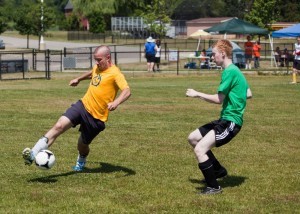 I think my understanding of what community was and what a relationship with God could be began to change when my older sister returned from a youth camp in Scotland. She had gone on a "Kairos weekend" with a lot of other people from Europe and something had happened to her. She was still my sister and she still annoyed me, but I could see something different in her. She began to have a prayer time in the mornings too. She began to meet up with one or two of the other young people who had been on the weekend with her and talk about God. One day she stopped me cold in my tracks. Right slap bang in the middle of a good argument after I had just laid out my side of the case and why she was wrong and was all ready to hear her attempted defence, she replied to me; "OK, I'm sorry". I think almost from that point on, our relationship improved incredibly – we became friends. As we did so, a hunger awoke in me – I wanted what she had found. I wanted what had changed her – I could see that something had happened to her while she was in Scotland and that it had made her a better person. It wasn't really that she had become more holy in the sense that I could see her praying more, but I could see her life changing – she really was starting to live a new life. I wanted that.
I began to attend some of these youth retreats and weekends which were put on by this group Kairos. Kairos was a group of young people and University Students from all over Europe who would gather for weekends, summer camps, mission trips and training seminars. They brought people from community groups like the Community of Nazareth in Dublin together to support and strengthen each other in their life of faith and to encourage them in their faith. Two crucial things happened to me over these years. At one point, upon returning from a weekend, I realized I was not sure that I had offered my life to Jesus. So I did. I knelt down at the side of my bed and said a simple prayer and promised to belong to God forever and to make no more decisions on my own. I knew exactly what I was doing – it scared me a little, to give my life away –  but the peace which came with the decision and the help it was in my further life with God was undeniable.
As I attended these regional retreats and events with Kairos, I was brought more and more into contact with a group of men called the Servants of the Word. These were men who had heard a call to live a single life. They had left their homes and families and lived together a life of simplicity, obedience and chastity – the three evangelical counsels common to many religious groups and orders. What was different about these men however, was that they were living this life right in the middle of Christian community and they were living it as an ecumenical brotherhood – Protestants, Orthodox, Catholics all sharing life together. They ran retreats and seminars for Kairos. They played in our annual community football tournament. They came over to people's houses for dinner and played with their kids. They seemed challenging and different and yet quite normal all at the same time.
As I became more involved with the community of Nazareth and with Kairos I began to see more of these men. I did a year of voluntary service with a student outreach they ran in London and worked closely with them. I was impressed by their way of life and their commitment to mission and evangelization. I could see a peace and contentment they had in living for God in this way which both inspired and confronted me, but I was sure that their way was not for me. I had never heard a voice telling me to be single or ever had any desire for it. I had a great example of family life in my home and a community I belonged to in Nazareth. It seemed as though my path in life was set. As I returned from my year of mission in London I was 24. I was ready to settle down in life, find a job and begin to build a life in Dublin.
As I returned to Dublin, many things worked out well for me. I was studying what I really liked in an MA programme at UCD. I had a job, a great community and living situation and, for the first time in my life – a car! There was so much that was going well for me. And yet, as I lived I began to experience a lack in my life. It was an experience of having missed an opportunity, of not quite living as wholly for God as I might have. Even in the midst of so many good things in my life, I didn't feel quite full – I felt as though I had seen something greater and hadn't risen to the challenge. I was spiritually restless.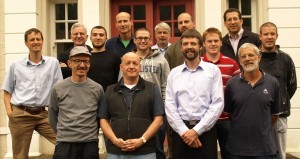 Having prayed for a few months, I made a decision. I called up one of the brothers from the Servants of the Word and asked if I could join them on their Christmas retreat. One evening on retreat as I was praying I could hear the Lord once again, not an audible voice but a sensation and assurance that I was with him that I had felt so many years ago in church in the early mornings. I felt him ask whether I would leave everything behind and follow him. I felt him ask whether I wanted the approval of the world around me or the approval that came from him. I felt him ask me, quite clearly, whether I would be willing to try and live for him, and trust that it would be the best thing to do – even if it looked like a failure in my eyes. I was fearful, thinking myself too weak to be able to answer his call well, but I wanted to say yes and so I did.
Right then, and still today 6 years later, peace came to me. To know what God wants you to do with your life and to do it is the greatest joy a man can experience. Though I have many faults and failures in trying to do the will of God, I still experience his joy every day. Although my decision to become a Servant of the Word has led me away from my home, my family and my community I feel greater joy in knowing that the Lord takes care of them for me in a way which I never could. As a Servant of the Word I am still part of the same work that God is doing in Dublin in Nazareth as I help to build Christian communities in other parts of Ireland and around the world. I count it an immense privilege to have been brought up in a community which helped me to hear God and respond to him in a way that was completely beyond my expectations for my life. As expressed in the scripture and in the covenant of the Servants of the Word, "In response to the exceeding greatness of the gift of God, I am glad to dedicate myself to loving him with all my heart, mind, soul and strength, offering my life to him and consecrating it to his service". I am convinced, a man can have no greater joy.
Tadhg Lynch will made his first full commitment to the Servants of the Word in August 2014. He lives and works in Belfast and with communities throughout Europe.